Welcome to the official website of
The Prairie Lily Cloggers
Regina, Saskatchewan, Canada
Check us out on Facebook:
www.facebook.com/PrairieLilyCloggers
---
What is clogging?
Clogging is a folk tap dance which is enjoyed by people of all ages and abilities. Clogging has roots that reach back to our European heritage; yet at the same time, it has such a contemporary feel that teenage kids enjoy it also.
Clogging now enjoys widespread popularity throughout the world.  Cloggers are now being spotlighted on television and major motion picture projects.
Dancers learn a series of clogging steps cued by an instructor to various music styles (country, gospel, top 40, rock, Cajun, Irish, etc).
Come on out & tap your feet to the beat !!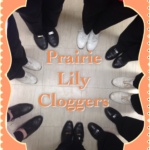 "Life may not be the party we hoped for, but while we're here we should dance."